Goodbye, old HP DL380 Gen9 rackmount server that I got on eBay several years ago. Hello to my new custom microserver, Vakt.
Vakt: Swedish for sentinel, or guard. An homage to a popular Swedish furniture brand, with which Vakt shares aesthetic influences. Danish and Norwegian have an alternative definition: to awaken, literally or spiritually. (Source: vakt - Wiktionary)
The design: Vakt is a cube, measuring 22cm across each side. The "N2" case — designed by Jonsbo, just outside Shenzhen, China — is the most impressive small NAS case I've come across. The design of the N2 allows the CPU cooler to draw fresh air directly through the top of the case. Another fan draws air from front to back, through a bank of hard drives. A third intake for the fanless power supply gives it ample room to breathe. This three-zone airflow design gives every component direct access to fresh air, while keeping Vakt whisper-quiet. Its portability and low power consumption make it perfect for ephemeral housing or off-grid lifestyles. And a majority of components inside have been repurposed from aging high-end systems, extending their useful lifespans and keeping them out of landfills.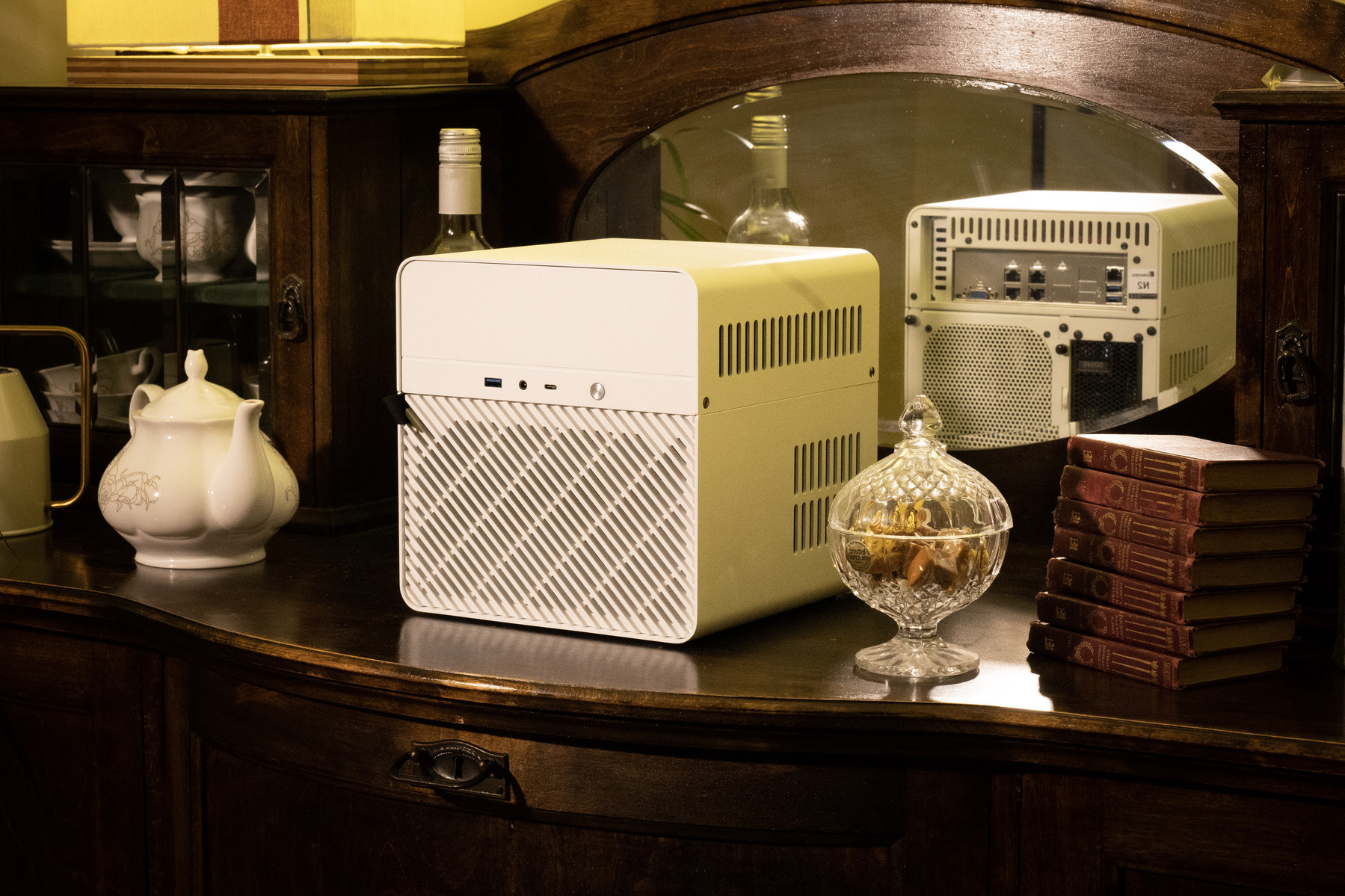 The computer: A Supermicro X10SDV-F system-on-board forms the heart of Vakt. The board is equipped with a low-power Xeon D-1541 eight-core processor, 128GB of RAM, and dual ten-gigabit Ethernet. Five 3.5-inch hot-swappable hard drive bays contain 8TB of redundant storage (expandable up to 110TB without redundancy). The CPU cooler has been modified with a Gelid Silent 5 fan and a PWM controller from the custom water cooling industry, which keep Vakt at a polite 23 dBA at idle. Vakt is the most respectful roommate I've ever had.
My fan controller script — which can easily be adapted for other SuperMicro X10 systems, is available for download here.
The software: Vakt is configured as a virtual machine hypervisor with Proxmox VE. Each virtual machine (or Linux container, which is like a virtual machine but with near-zero overhead) runs one or more services. As of writing, those include an OpenProject server for organizing my personal projects, network-attached storage including live sync with my desktop using Resilio, some game servers, and an experimental network of VMs that I use for labbing. Everything is software-defined, so production and testing environments can be run at the same time on Vakt, and be kept completely isolated for security.